STAR TREK LINKS
The following are some interesting Star Trek links. They might not be all the links that are out there, and they might not even be the best ones, but these are the sites that I visit most often and which I consider to be useful for their purposes.
Star Trek: The Official Site
This is the official "Star Trek" site put up by Paramount, and it is filled with content, like images, videos and behind-the-scenes information. It is perhaps the only "Star Trek" site on the Internet not likely to get a notice from Paramount's lawyers to close down.
Trekweb
This is the premiere site on the Internet for "Star Trek" news and information, including notes on upcoming episodes, review summaries given by a person who knows what he is doing (usually-I still cannot believe he liked "His Way") and postings from Ron Moore, a producer for "Star Trek: Deep Space Nine"
Star Trek Writers' Guild
"Star Trek: Athena" is not the only original-character "Star Trek" series out there. Others have also created their own ships and characters and written their own stories, and the gateway to them is the Star Trek Writers' Guild site, which gives access to stories posted on its site, as well as the "Ships of the Fleet," which are links to the other original-character fan fiction sites on the Internet. If you want more of what you see here, this site is the place to go to. (Note, this site is in the process of moving to a new server, and might not be active; an updated link will hopefully be coming soon)
The Wolfpack
This is an amazing site, put together by some individuals rather talented with 3D imaging programs (or at least much more talented than I am). They have created some computer-generated images of "Star Trek" ships (and other ships from other science fiction properties) that are simply amazing. The only drawback to the site is that it has not been updated in over a year, but still worth a look.
The Nitpickers Guild Discussion Board
This site is for those who take their Trek seriously! Put together by Phil Farrand, the author of the "Nitpickers Guide" books, it is a place where fans and those with opinions can add their comments on nits, problems, opinions and so on for the current episodes of "Deep Space Nine" and "Voyager," as well as some other shows and movies. It is worth checking out.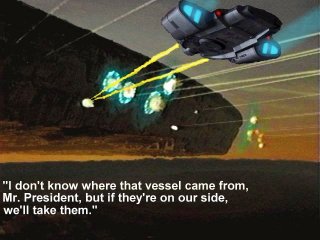 You Can't Do That On Star Trek!
This is one of the coolest "Star Trek" sites around. It has a lot more of what you see on the left, the efforts by fans with photo manipulation software to create images that one will never see on a "Star Trek" episode. They are often topical and usually very funny, and updated quarterly with new images.

---
Links last checked: November 12, 1998
---
Back to the Star Trek: Athena home page.
---
This page is copyright White Tornado Publishing, (c) 1998. "Star Trek" and its various incarnations are trademark properties of Paramount Pictures, and any commercial use of the contents on this site is strictly prohibited. "Star Trek: Athena" is a non-commercial hobby site created for the enjoyment of the site creator and visitors to the site.